QUANTUM COMMUNICATION INNOVATION FORUM 
From November 28 to 29, the BAT Tower in Bizkaia will host this unique forum in the field of innovation and quantum technologies, organized by the consortium EuroQCISpain.
The event aims to bring together key players in the field of quantum industry to discuss, exchange ideas and establish synergies to tackle and overcome the future challenges in the field of deployment of quantum communication technologies in Europe
The consortium EuroQCISpain's main objective is to develop and deploy quantum communications technology in Spain within the framework of EuroQCI – European Quantum Communications Network – an initiative that will seek to deploy quantum secure communications over Europe in the next decade.
The consortium is made up of universities and research centers such as ICFO (Coordinator of the project), UPM and CSIC, industrial entities such as Cipherbit-Grupo Oesía and  Indra,  and telecommunications  companies such as Telefonica and Cellnex.
If you are interested in knowing how Europe is planning on developing and deploying these technologies, from a local to a global perspective, come join us. In this forum you will meet the current players in the field, share the needs of your company or entity, and generate close connections with the current quantum industry network.
Click on the following link: REGISTER TO THE EVENT
The even is free for all attendees.  Once you have registered, you will receive a confirmation email of your attendance to the forum.
Venue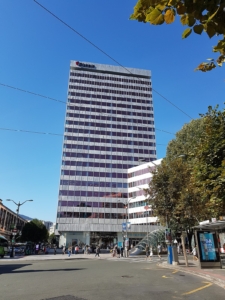 BAT Tower | Torre BAT
Gran Vía de Don Diego López de Haro, 1
48001 Bilbao
Bizkaia